Online Gambling Should Be Fun 😄
We know that gambling is somewhat of a taboo in India, and it can quickly become an addiction that's tricky to get a grip on.
Before you know it, you're spending more than you can afford to. You run into debt, and you experience an emotional breakdown.
It shouldn't be like this. Online gambling should be fun. But it comes down to emotions. There's the fun of winning, the familiar routine of spinning the slot reels and even the excitement of socialising with dealers and other players.
Gambling should never hinder your daily life. If it feels like it's getting a bit too much, it's time to reach out.
What Is Meant By Responsible Gambling?
Responsible Gambling consists of policies and measures designed to keep you safe. This framework encourages players to indulge in gambling as a recreational activity, never playing with more than they can comfortably afford to lose.
It's also designed to discourage you from pursuing gambling with the main aim of making an income. Most gamblers play online recreationally, but there are those who might fall victim to gambling addiction.
To help you establish healthy boundaries, online casino operators implement several practices to protect you, including:
Protecting vulnerable players
Preventing underage gambling
Payment security
A safe gaming environment
Personal data privacy
Safety checks against criminal activity
Responsible and ethical marketing
To make sure help is easily at hand, online casinos in India provide a Responsible Gambling page. It's a point of reference that provides ample information, including:
Signs of problem gambling
Tips on maintaining healthy boundaries
Protecting minors from underage gambling
Self-assessment questionnaires
Tools to help you set limits
Links to support organisations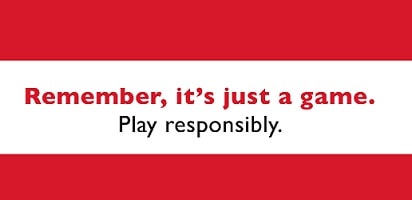 Are There Really Online Gambling Risks?
You love having a flutter on the slots, or maybe the odd poker game here and there, so are you really at risk of online gambling addiction? It can happen to anyone.
Let's say you're on a mega winning streak, and you have the urge to play more and more. It can get to the point where your habits adversely affect your finances, your ability to perform daily tasks and even your quality of life.
Uncontrolled gambling results in you losing more than you can afford to. It's something that needs attention immediately.
Could You Have A Gambling Addiction? 🤔
Whether it's you that enjoys playing at online casinos or someone else, there are a few tell-tale signs that there is a gambling addiction brewing.
It's All You Can Think About
If you find yourself spending most of your time thinking about your next gambling session rather than focusing on the tasks at hand, you might have a gambling problem.
It's the same if you're spending time coming up with detailed plans for your next gaming session, rather than enjoying a fun hobby. This includes making sure you have enough time in the day to gamble or planning your finances to make sure there's enough money to chase those jackpots.
What's more, if you're reliving your past wins by thinking about them all the time, banging on about it to anyone who will listen or justifying your gambling habits to those who ask, you may already be addicted.
You Just Can't Stop
If you've realised that you have a problem, that's a good start. But after recognising your addiction is not healthy, or your loved ones are complaining about the time spent playing, and you still can't stop, it's time for professional help.
Chasing Unrealistic Dreams
We all want to win. But if you can't walk away after a losing streak, or you're always chasing those losses, it could be a problem.
If you deposit INR20,000 for example and lose it all on slots, it's time to walk away. But if you prefer to deposit another INR20,000 and carry on playing in the hopes of another lucky win around the corner, you might have a gambling addiction.
Escaping Reality
When do you gamble? If you use it as the time to chill out after a long workday, great. But if you are most likely to gamble after an argument, when you're feeling low or for no real reason at all, your relationship with gambling probably isn't healthy.
Playing to solve problems or escape reality, rather than for fun, means our decision-making processes suffer, and we start making poor decisions. It's a vicious cycle that's hard to break.
You Experience Withdrawal Symptoms
Just the way smokers experience mental and physical withdrawal symptoms, the same thing happens to gambling addicts who suddenly stop playing.
When you're not logged into an online casino and you find yourself getting irritable, restless or even losing sleep, it's time to seek help.
Lying To Loved Ones
Do you find yourself shutting down when someone says you have a problem? It's normal to put up our defences when people accuse us of having something wrong. It's natural. But when it comes to problem gambling, players tend to lie to themselves and those around them.
It can start with little white lies about how much money or time has been spent at online casinos. Eventually, it can lead to a breakdown in communication with the people who are most important to you.
Addiction isn't a weakness. People aren't calling you weak if they're questioning your gambling habits. Rather, take the time to consider their views and opinions. If they're right, it's better to seek help right away.
Unsavoury Ways Of Funding Gambling
This is a classic symptom of problem gamblers. If you're getting involved in criminal activities, stealing money or even taking out high-interest loans to fund your online gambling habits, you're in trouble.
This is the time to realise things are going wrong and you need to ask for assistance.
Finding Gambling Help 🤝
Some players believe that just blocking casino sites will help with their gambling addiction. This doesn't necessarily work.
To solve your gambling addiction, you need to get to the root cause of your habits. Besides reaching out to an online casino's support team for advice, there are trained professionals who can help you.
Reaching out to one or more of the following organisations is a big step in your recovery journey.
Hope Trust India – this treatment facility can be found in Hyderabad, Telangana. Hope Trust India focuses on psychological wellness, treating various types of addiction through yoga, meditation, Cognitive Behavioural Therapy and a 12-step programme.
Rehabs.in – At Rehabs, players can find a rehabilitation centre closest to them. Each state in India has resources for problem gambling, and you'll find what you need on this website.
Gamblers Anonymous – this is a group of people who share their gambling experiences and work to help one another. It also uses a 12-step programme to help curb addiction.
Gambling Therapy – the online portal helps put you in touch with trained professionals. It is a free service, and the Gambling Therapy site is available in English, Punjabi and Hindi.
Alpha Healing Centre – this is a holistic treatment centre in Gujarat that focuses on treating inpatients.
GamCare – while GamCare mainly focuses on players in the United Kingdom, their website is available in both English and Punjabi, so it is an option for Indian gamblers.
Never Play At Unreputable Casinos
Not all online casinos that accept Indian players are legit, especially when it comes to their focus on responsible gambling.
We only ever recommend that you play at licensed online casinos that provide a good responsible gambling profile.
One way to make sure that this is the case is to look at a site's gambling license. One of the strictest licenses you'll find in India is that from the Malta Gaming Authority. Online casinos that hold this license automatically have a strong focus on safe gaming.
Casinos that have a page dedicated to responsible gambling, or even their own portal, are also signs of platforms that truly care.
For example, Casumo's Play Okay and LeoVegas's LeoSafePay show that the casinos put in the effort to make sure you have control over your gameplay.
Self-Help Gambling Tips 👐
The first step to recovery is admitting that you have a gambling addiction. Then, you have options:
Ask for professional help
Take advantage of therapy programmes
Use the casino's self-help tools.
Let's focus on those self-help tools for a moment. Reputable online casinos have tools and features that make their platform safe for players, such as:
Deposit limits
Loss limits
Session limits
Wager limits
Time alerts
Player history
Self-assessment
Self-exclusion
One of the best things to do when your habits are getting out of hand is close your account. You can do this by contacting a casino's customer support team and asking them to permanently exclude your account.
Always Gamble Responsibly
Never gamble under the influence of drugs or alcohol. Never play with more than you can comfortably afford to lose. Never let gambling get in the way of your daily tasks and relationships.
Online gambling is designed for entertainment, but it comes with its risks. It can lead to addiction, which is why you should constantly check in with yourself and your habits.
Self-awareness is key to a fun and controllable gambling experience, and if you feel like things are getting a bit much, don't be afraid to reach out for help.